Click link below to see full size PDF Article!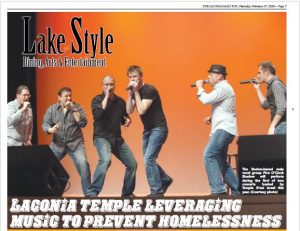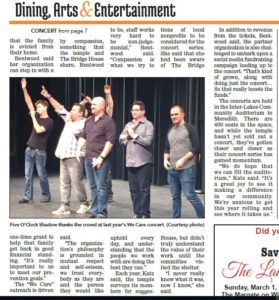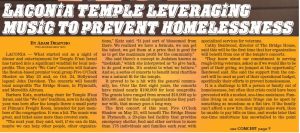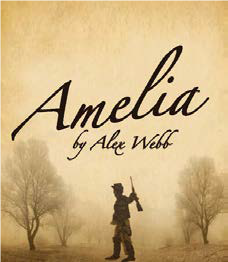 TBI Members Bryan and Paula Halperin invite you to attend this upcoming event running February 20th-23rd.
Tickets available at http://www.winnipesaukeeplayhouse.org/ – Tickets from $14 – $20 – Bryan is directing the play, Amelia!

Amelia by Alex Webb Histories of the Civil War introduce us to the pain beyond the battlefield: of brother-to-brother rifts, families both North and South torn by the events and the issues, and the endurance of love. Author Alex Webb researched evidence that women disguised themselves as men in order to serve and fight, demonstrated in title character Amelia. Her search for her missing husband leads her to masquerade as a man in order to gain access to the storied prison where she finds him to be held. This is the story of her encounters along the way, told with poignancy and adventure that challenges us with the question "how far will you go without giving up?"

Note: There is a $7.50 fee to vote in this election to offset the cost for WZC.
Shalom,
Five years ago, Reform Jews in the state of New Hampshire cast 27 votes in the World Zionist Congress election. We can do better. We must do better if we want our Reform Jewish values to be represented in Israel. A vote for the Reform/ARZA slate (number two on the ballot), is a vote for equality, pluralism and democracy.
There are 5 URJ congregations in New Hampshire with a combined membership of 683 households. Only 3.95% of those households voted in the last election and still, more than 20 million dollars were distributed to Reform causes in the past five years, new Reform synagogues were established in Israel and leaders were elected who were able to influence Israeli policy and procedure. Successful collaborations with Israeli political parties were forged to influence Israeli society in matters of conversion, marriage and divorce, religious pluralism, gender rights and combatting racism.
Imagine what we can do it we triple or quadruple the vote in every state!
Voting in the World Zionist Election is the only way that American Jews can weigh in democratically about issues in Israel. Whether you set up a laptop in your lobby, pause at gatherings so that people can vote on their phones, speak about the election from the bima or print out paper ballots for those uncomfortable with an electronic process, please know that every vote matters. The more votes for the Reform/ARZA slate, the more delegates we can send to the congress this Fall.
On your congregational website, in electronic communications and social media posts, please include the links to www.arza.org where people can vote and to the voting tutorial. (Please be advised that the dual-pin system may be changing to reCAPTCHA technology in the coming days. It is still a two-pronged process for security reasons). You are also welcome to post and share this fun "Where do I Vote Video" featuring URJ President Rabbi Rick Jacobs. We appreciate your tagging your posts and photos #VoteReformWZC so that everyone can see your get-out-the-vote activity and be inspired by it.
Please feel free to be in touch with me if there is any way that I/we can help you in your efforts to encourage your congregants to participate more fully in this important election. It is not too late to request a speaker or a guest who joins your meetings/events electronically.
Thank you for voting Reform and for encouraging others to do so as well.
L'shalom,
Shelley
Shelley Schweitzer
WZC Election Consultant
330.327.0840