The Jewish holiday of Hanukah, also known as the Festival of Lights, will begin on Sunday evening, November 28, at sundown. Hanukah has become a beloved and joyous holiday that celebrates the rededication of the Second Temple in Jerusalem after its desecration in 164 BCE. The Maccabees, led by Judah, were the first Jews who fought to defend their religious beliefs. Following the struggle to regain the Holy Temple a great miracle happened when the oil to light the lamp that had only enough oil to burn for one day miraculously burned for eight days, thus establishing the precedent for the eight-day festival.
Today Hanukah is celebrated in homes around the world by the lighting of the menorah, a nine-branched candelabrum that holds a primary candle, the shamash, that is used to light an additional candle for each night until the final night when the menorah glows brightly with all eight candles and the shamash.  As the candles are being lit, blessings are chanted before and during the process.  Many families will light their menorah by a window to share the spirit and glow of the festival.  Aside from lighting the menorah, other Hanukah celebrations have emerged over the years.  In the shtetls of Eastern Europe children were given Hanukah gelt (coins) as a special treat, but real coins have been replaced by chocolate coins, wrapped in gold or silver foil, and brightly wrapped presents which are often given each night of the holiday.  In many homes, playing the game of dreidel, a spinning top that is inscribed with the Hebrew letters that represent the Hanukkah theme, "a great miracle happened there," may be part of the nightly ritual after lighting the menorah.  
As with every Jewish holiday, there are traditional Hanukah foods that have special meaning to this festival as they are cooked in oil. The most notable are the potato latkes (pancakes), fried in batches and served with applesauce or sour cream. The custom of eating sufganiyot, a jelly-filled donut, has emerged from the Israeli tradition where these delicacies are fried in oil. Whether indulging in latkes, sufganiyot, or fried mozzarella sticks, the importance of celebrating with fried food is recognizing what occurred in the past and honoring this joyous holiday today.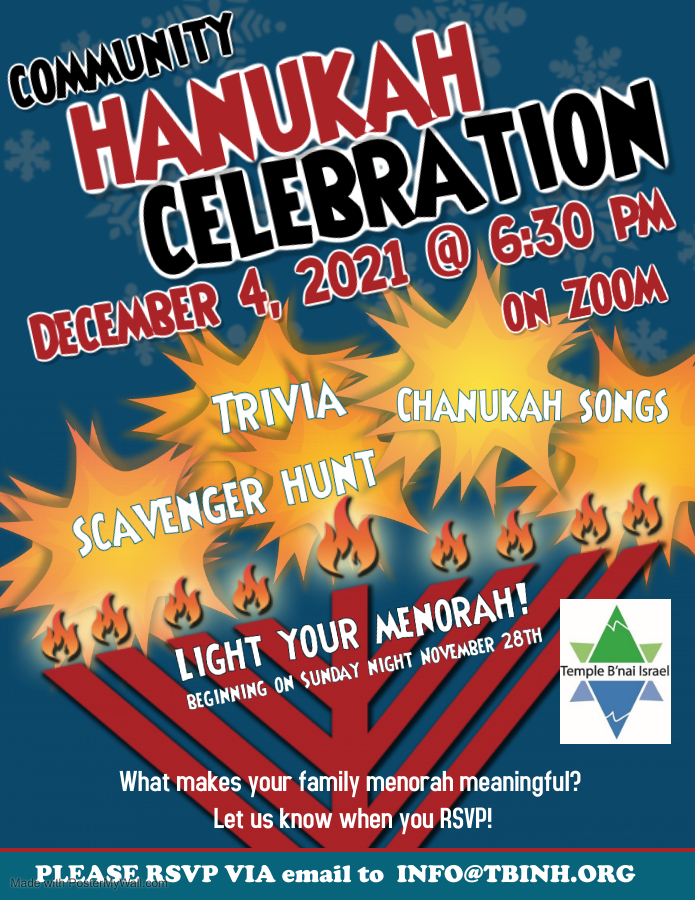 Temple B'nai Israel will host a ZOOM community Hanukah celebration on Saturday, December 4, 2021. Each household will light their menorah and chant the Hanukkah blessings in their home. The Religious School children will lead the singing of traditional Hanukah songs followed by a game of Trivia and a Hanukkah scavenger hunt. Zoom link will be available upon request with RSVPs.
Everyone is encouraged to share why their menorah may have special meaning. Do you light a menorah that has been handed down through generations? Maybe you have a sentimental menorah that was made by children who are grown now. If there are stories to be told, please share yours when sending your RSVP to info@tbinh.org.