2021 New Hampshire Jewish Food Festival Information Page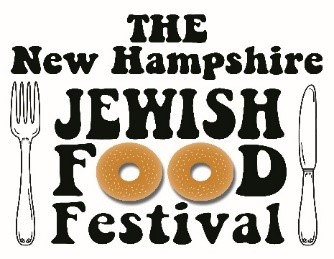 Order Online June 1-27
Pick up July 30, 31, August 1
The 2021 New Hampshire Jewish Food Festival continues with its 2020 virtual format.
 This is the once-a-year opportunity to place orders for
the homemade traditional Jewish style foods that everyone craves but is hard to find in this part of New Hampshire.
Most items are sold frozen in multi-packs with instructions for heating at home.
⇒

To view complete menu and place order

– Click Here
New for 2021
Custom deli sandwich "Picnic Pack"
fresh, ready-to-eat items
1 pullman style (rectangular shape) loaf of Jewish style rye bread  
Your choice of 4 deli meats in ½ lb. packages (4 packs = 2 lbs. total)
9 crispy green half sour pickles fresh from the barrel
1 pint of freshly prepared homemade coleslaw
1 container of handmade deli style horseradish mustard
1 lb. of home baked rugelach for dessert
Picnic Packs are a great way to take the Jewish Food Festival from "dining under the tent" on temple grounds to dining at the park, the beach, on the boat or at home.
⇒To order a Picnic Pack – Click Here
◊ ◊ ◊ ◊ ◊ ◊ ◊ ◊
⇒To view complete menu and place order

– Click Here
Pick up orders at the temple
210 Court Street, Laconia  
Curbside by appointment  July 30, 31 & August 1
Pick-up will be open from 9:00 AM-3:00 PM.
Select your day and time on the checkout page. We will do our best to accommodate your request. Confirmation emails will be sent within 48 hours of ordering.
Masks will be required for staff as well as customers.
CLICK HERE

for Serving/Heating/Baking Instructions for all foods
Most items  are limited to inventory on hand , so order early not to be disappointed!
Read about Bubbie's Adventures In the TBI Kitchen Click Here