Opening Your Heart With Psalm 27 – Presented on Zoom by the Author, Rabbi Debra Robbins
August 23 @ 7:00 pm

-

8:00 pm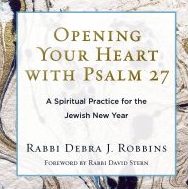 "Opening Your Heart with Psalm 27" will take you on a journey of reflection and help you find meaning in the turning of the Jewish year.  Rabbi Debra Robbins will present her approach to using Psalm 27 to reflect on each relationship, each conversation, and each choice.  To consider where we need to make repairs, adjustments, and atonement, as the new year begins, through Sukkot.
Registration is required. 
Registration for August 23rd Zoom Program
Zoom link will be sent upon receipt of registration.
Members of TBI who register for the program will receive a free copy of "Opening Your Heart Through Psalm 27" courtesy of Rabbi Katz
The book is available through CCAR press – https://ccarpress.org/shopping_product_detail.asp?pid=50465. 
This is a free event and open to the public.