Participate in packing 10,000 meals with The Outreach Program
December 11 @ 1:00 pm

-

3:00 pm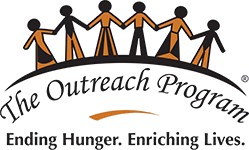 Regional Youth Group leaders (Pastors Peter Lovett & Sara Holland) are coordinating and hosting a food packaging event on December 11th @ 1pm at the Congregational Church of Laconia,18 Veterans Square.
This is an intergenerational event! All ages are invited to participate in packing 10,000 meals (yes! 10,000) for distribution to people who are hungry. The Youth Group leaders have committed to packaging 10,000 meals on Dec. 11th @ 1 PM.  The upfront cost for 10k meals is $3,500.  In addition to your help with packing, individuals, churches, youth groups and community organizations are also encouraged to make a free-will donation to help cover the cost of the food.
If you wish to contribute, please make the check out to First Congregational Church of Meredith, and put "Ending Hunger" in the Memo line of your check. The church address is 4 Highland St., Meredith NH 03253.
Producing 10,000 meals can take as little as two hours and a minimum of 30 volunteers are needed; the more the merrier! Participating groups can designate some of the meals to serve their local food banks, soup kitchens, and shelters.  If you are interested in learning more about the program you can find more info at www.OutreachProgram.org.  Click on the "Hosting and Event" tab to get more information about the program.
Questions? Contact: Rev. Ruth Martz; [email protected]; 603-630-7936