This content has been archived. It may no longer be relevant
By Michael Mortensen, Laconia Daily Sun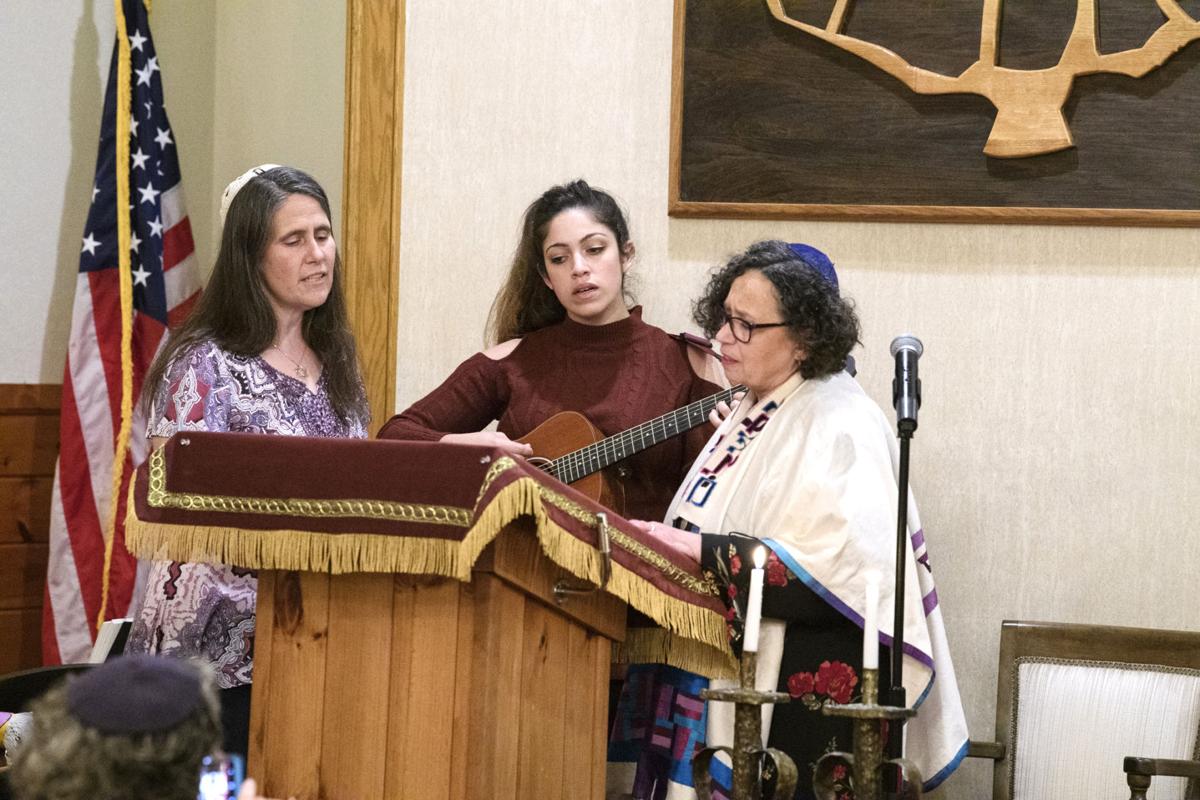 LACONIA, NH With memories of the horrific tragedy in a Pittsburgh synagogue still fresh in people's minds, the task that people face is to move forward, committed to making a fairer, more peaceful community, nation and world.
That was the repeated message as more than 150 people — Jews and Gentiles — overflowed the sanctuary of Temple B'nai Israel in Laconia for a Sabbath of Unity service on Friday, to remember the 11 men and women shot and killed at Temple of Life Synagogue seven days before, and to offer a message of solidarity against hate in all its forms.
There is no way to get from here to there, except by joining hands and marching together, those in attendance read in unison at one point in the service, which included prayers, chants and songs, in both English and Hebrew.
Those who attended included Laconia Mayor Ed Engler, Laconia Fire Chief Kurt Beattie, state legislators, candidates for office, and representatives of various faith communities. The services was led by Rabbi Boaz Heilman and Cantor Melody Funk. Assisting in the music during the service were synagogue members Karen Rines, and Joel Funk, and Noam Wolf, emissary for the State of Israel to New Hampshire. Half or more of those seated in the main sanctuary and the adjoining fellowship hall were non-Jews, according to one longtime synagogue member.
The service repeatedly touched the diametrically opposite themes of unspeakable evil and unquenchable hope. 
Speakers addressed the increase in tribalism in the nation's politics and growing insensitivity to those seen as different on the one hand, and the founding principles of the United States which brought those different people to this country in the first place.
We are in danger of making the extraordinary become the ordinary by walling ourselves off and choosing to only associate with people who look like us and, importantly, who share only our exact same values, said Engler. By holding that view, he continued, year upon year we lower the definition of evil dangerously close to one that's applied to anyone outside those closely guarded walls. And aren't the eventual consequences of that behavior ever so predictable?
Longtime congregation member Bob Selig, who noted that he has been worshipping at Temple B'nai Israel since he was 3 years old, said that it was the belief that the U.S. was a land of opportunity which has drawn Jews to America's shores. And he reminded the audience, We are all immigrants. Noting that because of their own personal experience, Jews feel a particular responsibility to support immigrants of all races, colors and creeds, he said, We're helping people who need help.
The Rev. Judith Wright, minister of the Unitarian Universalist Society of Laconia said, We're in this together. Let us hold each other tight.
Heilman struck and similar note when at the opening of the service he said, This service promotes unity as we stand up against anti-Semitism and all forms of hate.
In his sermon, Heilman said recent events show that Jews and Jewish houses of worship are not the only targets of hate in this country. He pointed out that 10 days before the tragic synagogue deaths a white supremacist took the lives of two African Americans in a Kentucky supermarket after trying and failing to enter a predominantly black church nearby.
In America we found a safe haven from the ancient, evil hatred we know as anti-Semitism.
Until recently, Heilman said.
Along with steep escalation in anti-Semitic violence across Europe and elsewhere in the world, we have also seen a 57 percent increase in anti-Semitic incidents in the United States, the largest recorded rise in 40 years, he noted. The terror attack in Pittsburgh, however, has taken all this to a totally new place, a place we never dreamed we'd find ourselves in. Along with waves of grief and anger, for the first time in decades we also felt afraid and isolated, filled with doubt and uncertainty, he added.
Heilman said the task ahead is for Americans to rediscover the value of inclusivity and willingness to live peaceably with all kinds of people.
Looking out at the congregation composed of people of many faith traditions, and those who do not ascribe to any particular faith, he said, Our united presence here tonight reinforces the holiness not only of this time and place, but also of the bond between us as neighbors and friends. Only with this faith restored can we look forward to a better future, a more secure future, for our children and grandchildren.