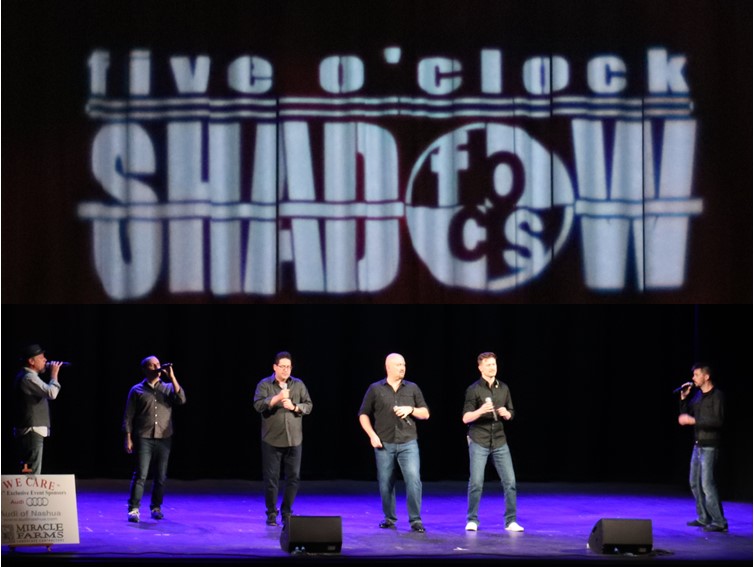 October 23, 2021, Laconia, NH – Oh what a night!  Five O'clock Shadow did not disappoint the sold-out audience that came to The Colonial Theatre to experience "a cappella that rocks!"   The six-member vocal band sang a varied assortment of popular music from "Hip to Be Square" to their own "pandemic version" of "Stuck in the Middle with You" retitled "Stuck Quarantining with You," and ending with a stirring encore of "Bohemian Rhapsody."  Their signature sound was performed with perfection – every note, every vocal intonation, each carefully rehearsed instrumental sound, rang out through the theatre to thunderous applause.  This was just the second live performance for FOCS since the beginning of the pandemic.  It was clear they were thrilled to be back on stage performing their music, sharing their stories, and engaging with the audience. 
The show was opened by Plymouth State University a cappella ensembles, Mixed Emotions, an all-female group, and Vocal Order, an all-male group.  Both ensembles had the unique opportunity to study with members of Five O'clock Shadow earlier that day, learning new techniques and preparing for the evening's performance.  After the groups' impressive appearances on stage, FOCS member Dan Lennon congratulated the students and he explained to the audience that FOCS is dedicated to continuing education and outreach to young performing groups.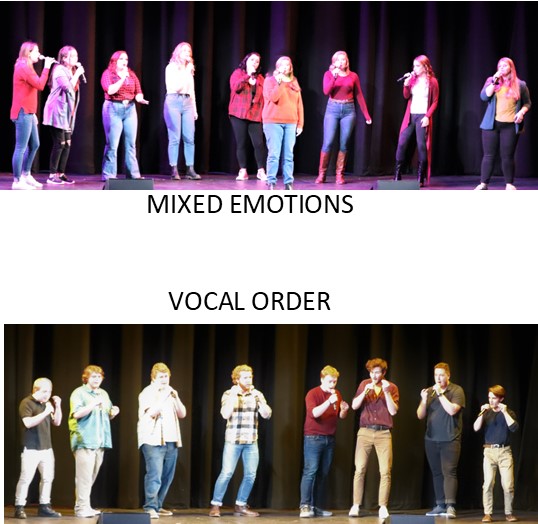 The We Care concert series allows local nonprofits and businesses the opportunity to come together to form mutually beneficial partnerships as well as bringing awareness to the public of their individual mission, services, and products. This event was a record fundraiser for the 18th We Care concert since its inception in 2013. 100% of the net proceeds from ticket sales, contributions from the main event sponsors, Audi Nashua, Miracle Farms Landscaping, The Bank of New Hampshire, Pemi River Fuels, and Hannaford, as well as many local businesses and individual contributions amounted to a donation of $24,000 to The Bridge House in Plymouth, NH.
Cathy Bentwood, executive director of The Bridge House, offered her thanks via email: "I love the 'Little Temple that Could.' Thank you all for exemplifying the best team effort I've ever experienced."
Marybeth Bentwood, owner of Brand Elevation Communications and marketing coordinator for The Bridge House also offered her thanks: "this event raised my appreciation for how individuals, who are committed to supporting and uplifting their community, can move mountains."
And the beat goes on … get ready to rock and roll with We Care again on Memorial Day Weekend, Saturday, May 28, 2022.  Stay tuned for more details to be announced soon,