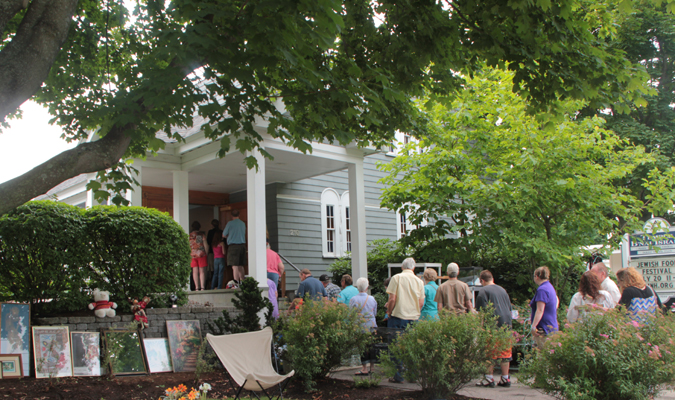 Our members at TBI span the spectrum from lifelong N.H. residents, to retirees, to young families seeking to raise and educate their children in the relatively slower paced lifestyle of the Lakes Region. Some congregants travel 40 to 50 miles to reach our Laconia location, as we are the only Jewish house of worship in the region.
We are affiliated with the reform Jewish movement and strive to integrate the eclectic mix of Jewish backgrounds of those who seek to worship, educate and socialize in this community. Our practices incorporate our members' beliefs and traditions from traditional conservatism to modern reform practice. Thus, the community is one of wide open arms and refreshing welcome to all who wish to belong.
Temple dues cover all activities and are in line with those of congregations of similar size. Grandparents are invited to enroll their grandchildren in the religious school, under the auspices of their membership, in cases when it is not appropriate or possible for parental membership. Discussion with the President of the congregation for accommodation in special cases is encouraged.
Members may purchase burial plots in the consecrated Temple cemetery at special rates. Family and friends are often honored on the prominent Tree of Life and departed family members can be memorialized on our Memorial Board. For further information, visit the "Cemetery" section of our website.
The Membership Committee looks forward to your interest in sharing the life-span of you and your family by joining our congregation. We invite your inquiries and ask you to check our website calendar schedule and then attend any service to sample the pleasures and satisfactions offered by membership in the TBI community.
Dues
All membership fees are covered by membership dues. There are no additional charges for High Holiday seating, religious school, or most other Temple religious functions.
These dues provide the Temple with most of its operating income and allow us to be a center for the Jewish Community in the Lakes Region and well beyond. We will never turn away anyone who wants to participate in any Temple function and special arrangements can be made with the President of the congregation for anyone who needs special financial consideration. But for those who can pay it is essential that they do pay, as the future and well-being of this center of the Jewish community relies on this support.
Regular Member: All Temple services and functions, payable in one lump sum or quarterly.
Associate Member: If the congregant maintains membership in another synagogue, a seasonal membership is offered with full member benefits payable in one lump sum or quarterly.
For special dues accommodation, please use our contact form and select "Dues Accommodation" as the subject, in order to discuss the matter with our President.