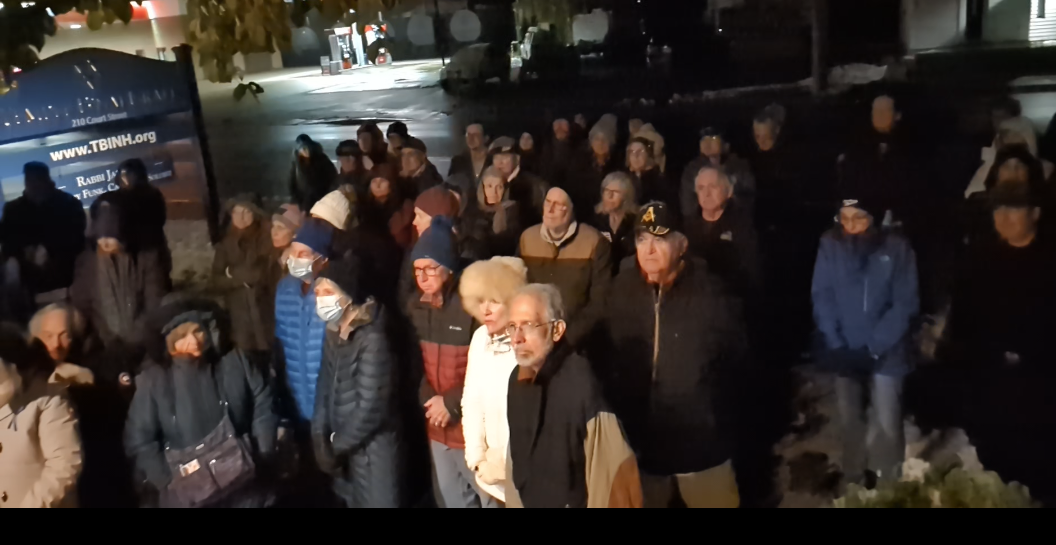 On Thursday, November 9, 2023, the Lakes Region community gathered on the steps outside of Temple B'nai Israel to commemorate Kristallnacht, "The Night of Broken Glass."  This is the third consecutive year that this event has been held and the first snowfall of the season did not deter people to remember the victims, denounce hatred, and stand in witness to the atrocities of the Nazi regime.  
NHPR reporter Olivia Richardson referred to the event as "an evening of warmth, support, and remembrance." (Read the NHPR Report)
TBI member Lois Kessin planned the event inviting local dignitaries and clergy to speak.  Most notably, Congressman Chris Pappas and Rabbi Robin Nafshi of Temple Beth Jacob in Concord.  Local dignitaries included Brian Beihl, host and producer of the American Democracy Minute Radio Report, Retired Judge Jim Carroll,  Rev. Judith Wright of the Unitarian  Universalist Society of Laconia, Pastor Campbell Lovett of the Congregational Church of Laconia, ​ Steve Tucker, Superintendent of the Laconia School District,  David Stamps, Chair of the Laconia Human Relations Committee, and Ira Keltz, President of Temple B'nai Israel, standing in for Rabbi Jan Katz who could not be in attendance.  TBI Member John McArthur led the attendees in singing traditional Hebrew melodies.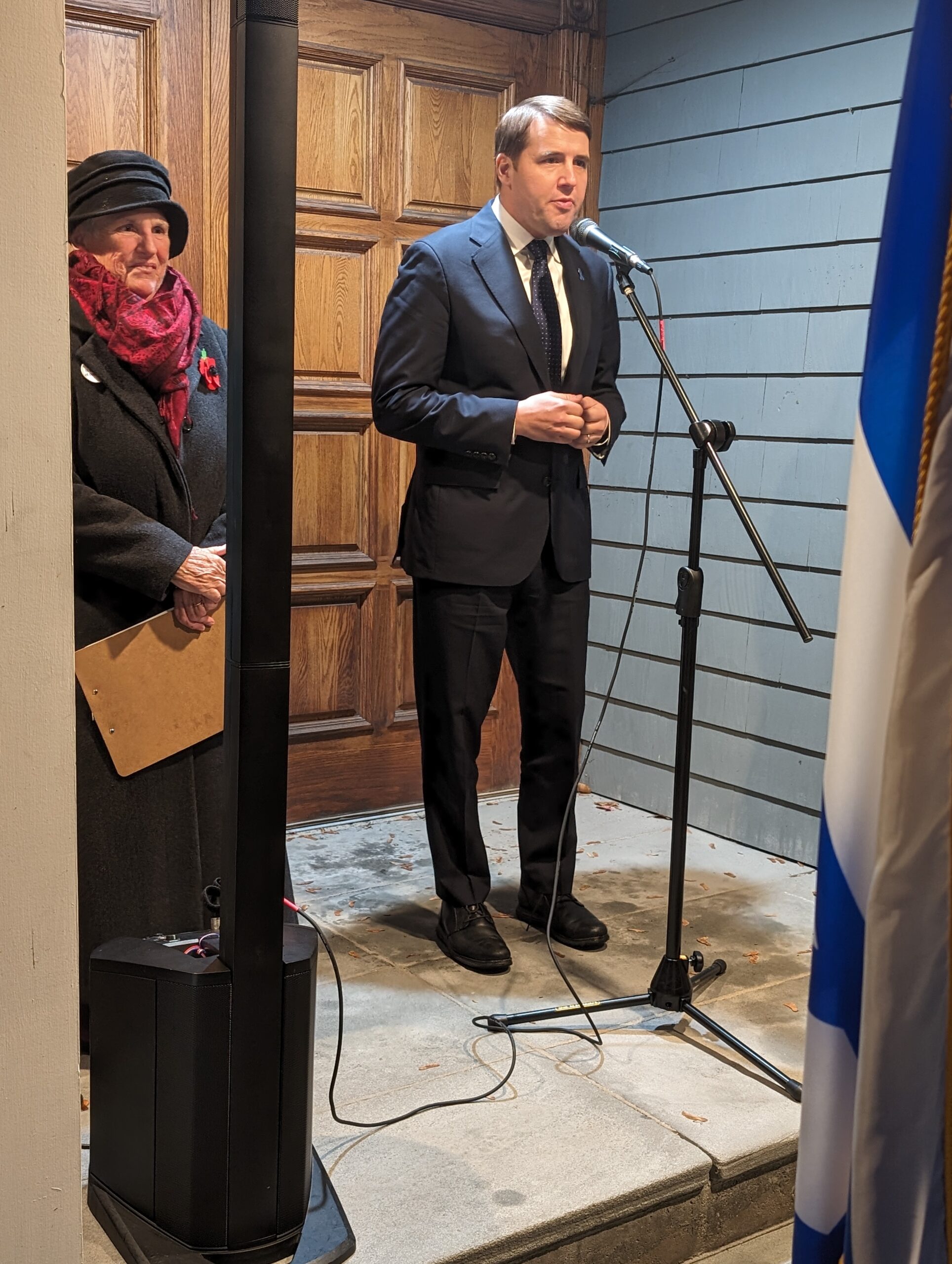 Kristallnacht was described as "Germany's most bloody assault on Jews since the Middle Ages," according to Rabbi Jan Katz.  This year marks the 85th anniversary of this tragedy that was the beginning of the Nazi's all-out persecution and slaughter of the Jews of Europe.  The State of Israel was born of the tragedy of the Holocaust.  Today we are faced with an unimagined attack on Israel by Hamas which has spurred global antisemitism to heights not seen since World War II.  It was hard not to connect the two events and the global reaction.  "Jewish communities everywhere are hurting deeply because of the lingering trauma of the Holocaust, because of the rise of antisemitism, because of the unimaginable suffering of our brothers and sisters in Israel, and because of the suffering of the Palestinian people.  Yet, here in Laconia and the Lakes Region, we know we are not alone.  You are with us, and you show us the power of empathy," as stated by Rabbi Katz.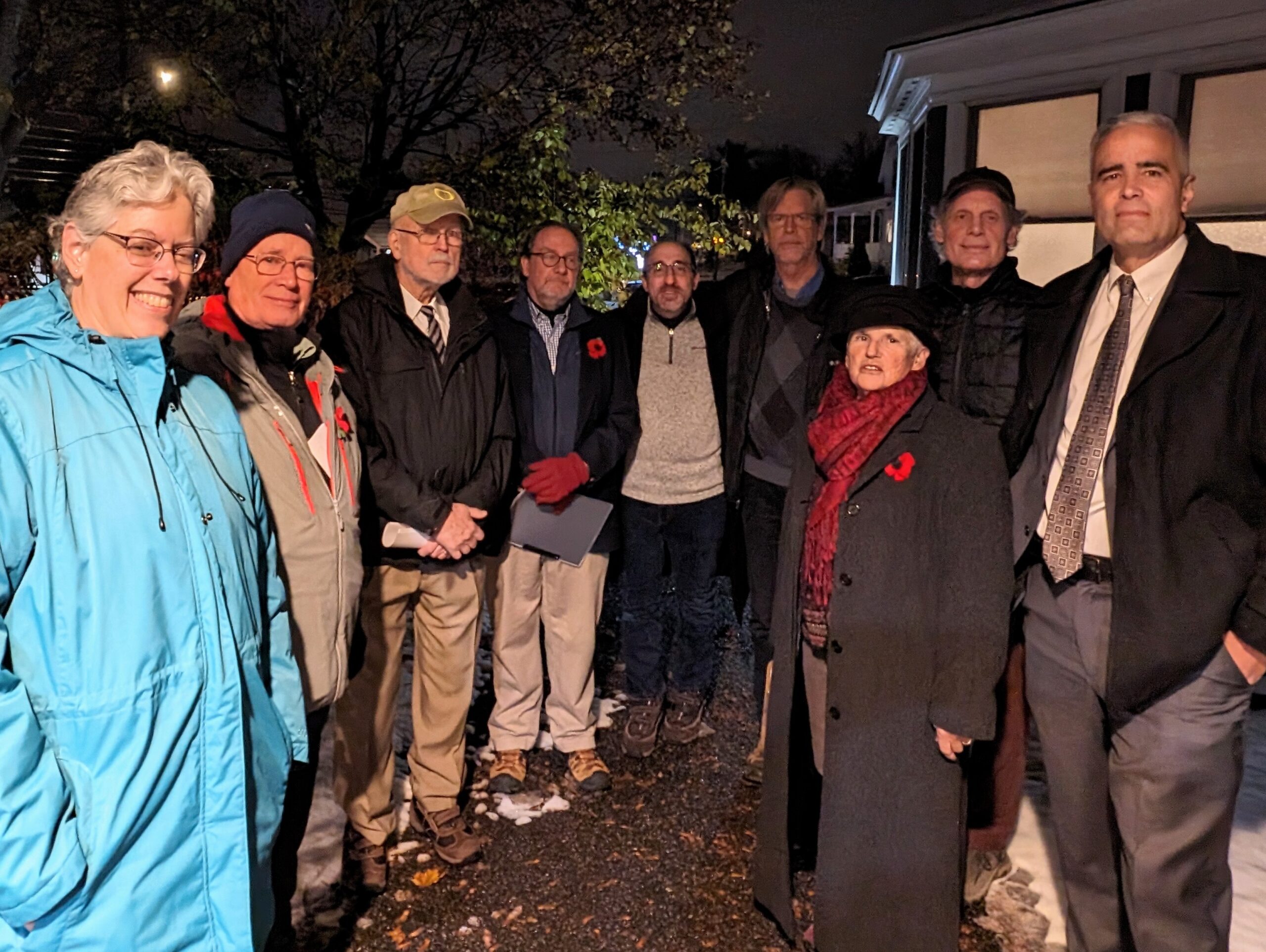 Brian Biehl offered his personal recollection of visiting Nuremburg in 2015.  "As we walked through the streets, we began to see small brass squares embedded as small cobblestones into the pavement. Each of them is inscribed with, "Here Lived," followed by names, the address, and a short phrase in German which describes the fate of those people:  Internment, suicide, exile or, in most cases, deportation and murder."  He continued, "They're called Stolpersteine, or "Stumbling Stones," and are now installed in 1,200 cities and towns across Europe and Russia. 
Upon conclusion, Biehl offered this important message,  "We must SHATTER silence by speaking out. We must SHATTER complacency with action.  We must SHATTER authoritarianism by voting. We must SHATTER violence with peace. We must SHATTER hate with Love."  
Dana Bash Reports on "Antisemitism in America" for The Whole Story with Anderson Cooper
NEW EPISODE PREMIERES SUNDAY, NOVEMBER 12 AT 9 PM ET/PT