TBI Says Farewell to Rabbi Dan
"It's a given that as a rabbi I love Jewish tradition. I love how it enables people to express and share joy and I treasure how it aids us in rebuilding meaning in our lives when we experience a great loss or a devastating trauma. I marvel at how it challenges us to raise the moral bar in our lives and gives us the tools to bring healing and justice into the world."  Rabbi Dan Danson
This excerpt from Rabbi Danson's Personal Vision Statement exemplifies the spirit that Rabbi Dan brought to Temple B'nai Israel when he began his term in July 2019 with the opportunity to meet and greet both members and patrons to the TBI Jewish Food Festival, followed two weeks later by a Havdalah cruise on Lake Winnipesaukee with TBI families.  "My passion has always been about connecting with people," Rabbi Danson said, whether on Shabbat weekends, during the High Holy Days, or at TBI special events and holiday celebrations, Rabbi Danson used every opportunity to connect with members or visitors, families and friends who participated at Temple B'nai Israel.
Before the end of Rabbi Danson's first year, however, the pandemic made connecting with people a challenge.  As families isolated, afraid to step outside their homes, much less worship together, a new buzzword emerged – ZOOM.  As the entire world learned how to connect through their computer screens, Rabbi Danson made every effort to bring TBI together with the help of the newly formed TBI technology team and a sophisticated computer system that provided the best Zoom experience for members as well as the Rabbi.  As the months progressed with the pandemic maintaining its hold on the world, Rabbi Danson found ways to make Zoom services, adult education, and religious school more palatable and engaging.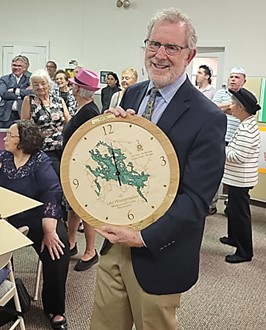 Members continued to tune in and take advantage of the lesser-known advantages of a Zoom lifestyle.  All who wanted to continue to connect with Rabbi Danson had every opportunity to do so.  There were Zoom Chanukah parties, Zoom Purim Shpiels, Zoom Passover Seders, all ably led by Rabbi Danson and happily attended by TBI members, friends, and family.
Rabbi Danson's tenure at TBI will always be tied to Covid 19, but his ability to lead throughout these troubled times will define his major contributions.  His affable personality, his ability to listen, and his religious leadership made an indelible mark on the congregation, for which he was honored on Friday evening, June 17.  A farewell Oneg Shabbat was sponsored by the Board of Directors following Rabbi Danson's last official Shabbat service.  Rabbi Dan was presented with mementos of his time in the Lakes Region as well as a toast and tribute from TBI president, Ira Keltz.  As he and his wife Julie start to enjoy their retirement, TBI wishes them well and they know the door will always be open to the Danson family whenever they find their way up to the Lakes Region of New Hampshire.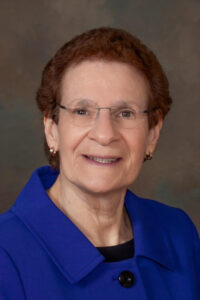 As one door closes, another opens and on July 8, Temple B'nai Israel welcomes newly ordained rabbi, Jan Katz.  Rabbi Katz is more than excited to share what she was privileged to learn at rabbinic seminary and collaborate with TBI congregants, the Laconia community, and other New Hampshire clergy.  Rabbi Katz brings with her decades of prior experience as a Jewish educator, an active lay leader, a clergy spouse, parent of 3 and grandparent of 12.   Rabbi Katz is looking forward to bringing meaningful worship, life cycle guidance, Torah study, pastoral care, interfaith outreach, and opportunities to gather meaningfully in congregational and community settings.   Most important, Rabbi Katz aspires to learn from, and share with TBI congregants all the joys, and even the "oys" of being Jewish in today's reality.