We Care of Temple B'nai Israel proudly presents
The Jersey Tenors™ October 28th in Meredith
Prepare to be captivated by an unforgettable concert experience and celebration
that will benefit the Interlakes Community Caregivers.
The Jersey Tenors are bringing their sensational new show, "A Tribute to Hollywood" that features the iconic music from Hollywood blockbusters and pays tribute to the fearless and charismatic leading men of the silver screen.   Enjoy an evening of the most memorable songs from cinematic masterpieces like The Godfather, Rocky, Saturday Night Fever,  and more!  Get ready to groove to the beat of Jersey's greatest hits featuring the songs of Bruce Springsteen, Frank Sinatra, Frankie Valli, and other legendary performers from "The Garden State."
Don't miss this one-of-a-kind event as The Jersey Tenors™ take the stage, raising the roof with their powerful voices.  General admission seating is available for just $40 per person.  Doors will open at 7:00 p.m.  Be part of the celebration – purchase your tickets now!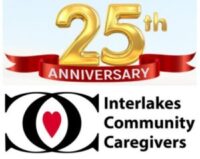 Join us in celebrating the 25th anniversary
by donating a ticket as a gift for dedicated volunteers
Your contribution will support the Interlakes Community Caregivers, a group of compassionate individuals who provide essential services like transportation, grocery shopping, and companionship for those in need. By purchasing tickets or donating them, you will give these selfless volunteers a well-deserved night out.
Let's come together and recognize their invaluable commitment to helping others.