if you live in the Lakes Region, you might have felt a slight tremor in the ground on Saturday evening, May 28 as The Jersey Tenors wowed the packed theatre and rocked out the house… Jersey style!   These four New Jersey "wise guys" did not disappoint the record crowd that came out to support a well-known local nonprofit agency, the Interlakes Community Caregivers, a volunteer organization that provides supportive services and information for local residents who may need assistance with rides to medical appointments, grocery stores, pharmacies, or neighborly home visits.
The Jersey Tenors, brought their Jersey best to the stage as they took the audience on a journey through Europe, from London to Paris to Rome by way of Queen's "Bohemian Rhapsody," "Springtime in Paris," and Italian operatic ballads performed with perfection.  Throughout the show, they engaged with one another and the audience, both on stage and in the house.  Their renditions of the most popular songs of the '40s, '50s, and 60's were amazing powerhouse vocal performances. The Memorial Day weekend concert included a tribute to veterans when the Tenors sang an inspirational rendition of "The Battle Hymn of The Republic" bringing the audience to their feet in tribute to those who gave the ultimate sacrifice.  Then there was the encore.  As the standing ovation continued, The Jersey Tenors offered one more remarkable performance singing the finale of the popular Broadway musical "Les Misérables" – "Do You Hear the People Sing" – bringing chills to everyone and tears to many, as they sang with heart, bravado, and perfection.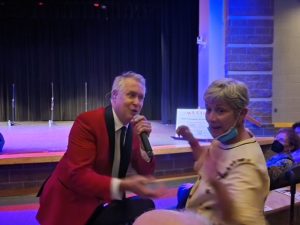 "What a wonderful evening! I think I had the most fun! Thank all of you that helped to make it happen!" said TBI member Paula Chambers.
 "The hard work and expertise of the TBI team made this terrific event possible, all for the benefit of others.    On behalf of ICCI, I am thankful that so many of our "neighbors" will benefit and I am grateful for the opportunity to have participated in the process."  Darlene Fritz, Interlakes Community Caregivers Board Member
This was the 15th We Care concert and the most successful to date raising a record of over $16,000 for Interlakes Community Caregivers.   According to Stu Needleman, chair of the We Care team, "these We Care events don't happen without the efforts of the TBI team who labor for months to make sure these concerts are flawless and most importantly financially rewarding for our nonprofit partners."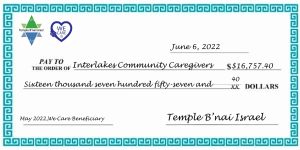 The next We Care concert takes place on Saturday, October 29.   "Introduction: The Chicago Experience" will perform to benefit Meredith Altrusa at the Inter-Lakes High School auditorium.  Tickets will be available on the TBI website.   Don't miss it!