Thank You to All Our loyal Jewish Food Festival Patrons
The NH Jewish Food Festival is in the books! More than 275 orders were distributed through a curbside pick-up system over what was the hottest weekend of the summer so far. Inside the TBI social hall, the process of sorting, picking, checking, and bagging orders worked seamlessly. Outside on the driveway, cars lined up to wait as orders were brought out by TBI greeters. There was a gleam of anticipation and a sense of excitement as the bags of blintzes, deli meats, rugelach, etc., were passed through the open car windows. Before driving away, many people expressed their appreciation for the opportunity to finally enjoy the foods they had waited weeks to eat. And it didn't take long for the phone in the temple to ring, or email requests sent, asking if there was more of anything to purchase, which sadly there was not. Also within hours of pickups, there were email messages like these:
I wanted to tell you that we loved the food we bought through the Jewish Food Festival! Â My husband and I shared it with our good friend who is Jewish and lived in NYC for a lot of her life. Â Again everything was excellent but she especially loved the Matzo Ball soup (excellent broth), Â the Knishes and Rugelach were some of the best she has had (she said forget about Zabars now). Â Thank you for this fundraiser and for all of the hard work that went into making this delicious food.
I picked up my order today. Everything so far is fabulous. The Chopped Liver is sublime, on a stick of celery with a smidge of salt.Â
Please, if there is any leftover Chopped Liver I will buy it, call me. This is for such a great cause, great organization and great community. Thank you so much to all the shoppers, chefs, helpers, drivers, office management, computer techs, packagers and parking lot attendants. All good works!
Love the drive-thru! Great rugelach! You have done a wonderful job! Thanks!
Our freezers and refrigerators are now empty – until next year. Thanks for making this another fabulous Jewish Food Festival!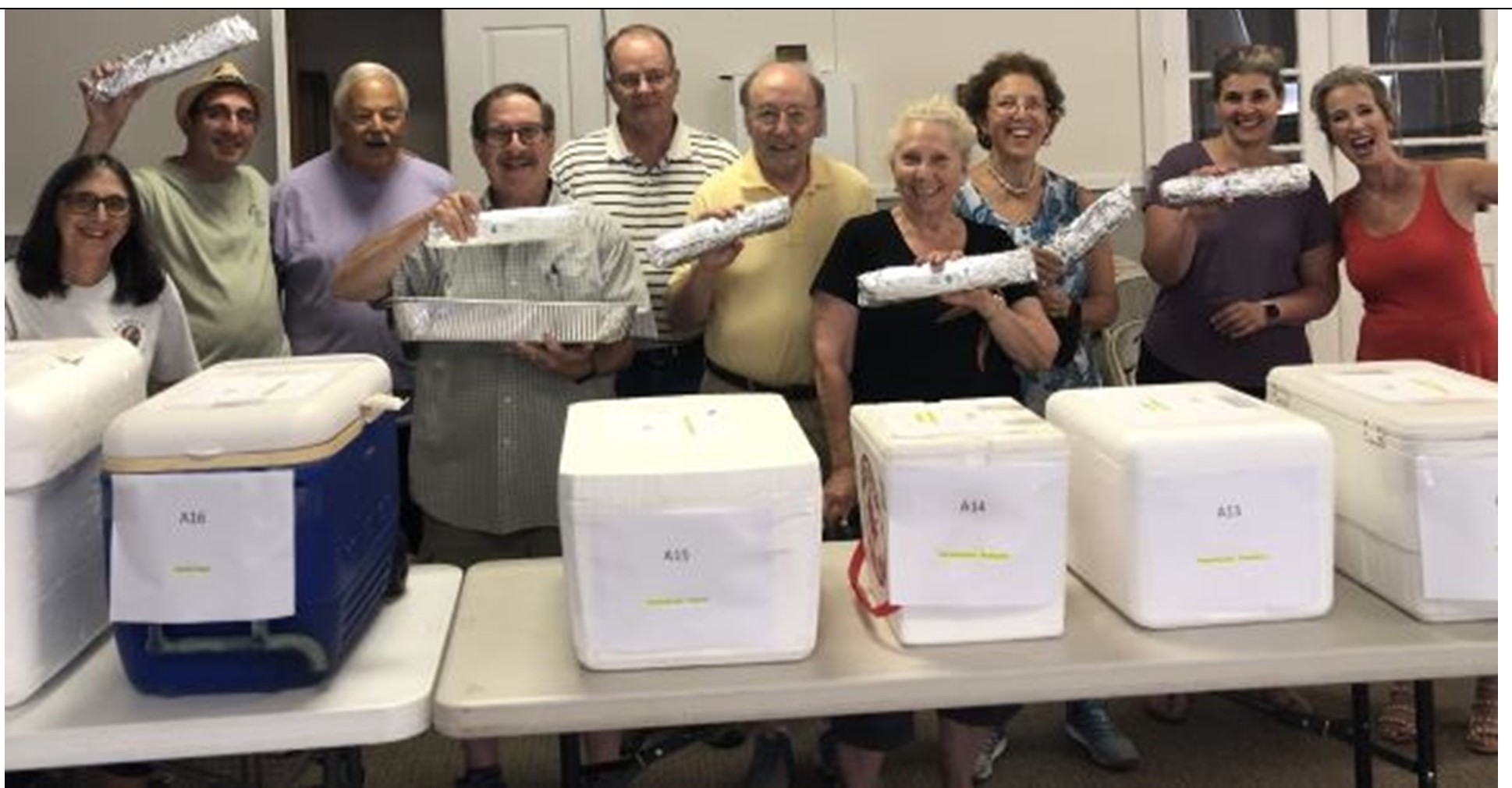 The Sunday Pickup Crew – Strudel Anyone?