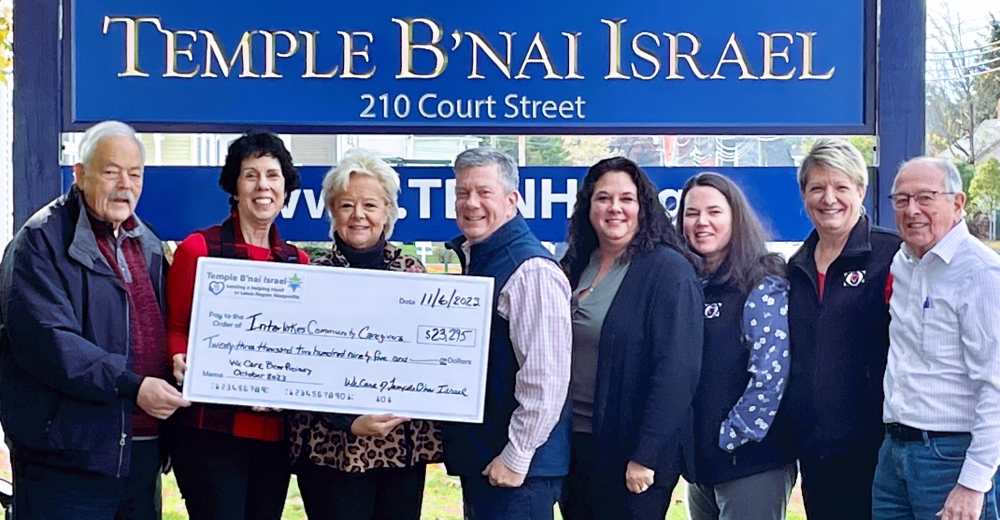 Pictured are We Care's Stu Needleman, Committee Chair, and Barbara Katz, Marketing Chair.  Interlakes Community Caregivers representatives are Pam Joyal, previous Executive Director, Chris Kelly, Board President, Dyan Lowman, Board Secretary, Kathryn Holt, Executive Director, Amy Blongy, Lead Coordinator, and George Jewell, Board Treasurer.
A note of thanks from Pam Joyal, Executive Director of Interlakes Community Caregivers
Recently, the Interlakes Community Caregivers Inc. (ICCI), had the wonderful opportunity to be the beneficiary of Temple B'nai Israel's "We Care" concert program that assists local nonprofits in fundraising events. The Jersey Tenors, an incredibly talented group of vocalists performed to a Sold-Out crowd at the Inter-Lakes High School Auditorium and raised an incredible $23,295 for ICCI in a single evening.  This is a testament to the exceptional dedication of Temple B'nai Israel to a greater cause and to our community.
Temple B'nai Israel has long been an integral part of the Laconia community, providing spiritual guidance, cultural enrichment, and a warm, inclusive environment for all. However, their recent philanthropic endeavors have enabled them to extend their reach even further, making a significant impact not only within their congregation but also within the wider community. Countless individuals and organizations came together to support our cause and fuel our efforts. The level of enthusiasm and generosity displayed by the attendees was nothing short of awe-inspiring. The $23,295 that was raised is no small feat, and the ripple effects of this achievement will be felt far and wide. These funds will undoubtedly bring positive change and uplift the lives of those in need for years to come.  
It is a tremendous act of kindness and compassion that must be acknowledged and celebrated. Beyond the financial contributions, the importance of community partnerships and collaboration cannot be overstated.  ICCI staff, Board of Directors and Volunteers thank Temple B'nai Israel for their volunteer service and helping us celebrate our 25th Anniversary this year!  We could not have achieved this amazing goal without you! 
We Care has been lending a hand to Lakes Region nonprofits since 2013, and has raised over $200,000 for our community.  We Care organizes two concerts each year with the net proceeds benefiting two different local nonprofit organizations.  The events, scheduled in May and October, include the talent, the venue, logistics, ticket sales, and marketing, while the entire net proceeds of each concert are returned to the selected beneficiary of the event. In addition to ticket sales, We Care and the selected beneficiary both offer businesses the opportunity to become event sponsors. 
We Care and Interlakes Community Caregivers thank the sponsors of The Jersey Tenors concert
These outstanding community-minded businesses will help to support the ongoing commitment of the Interlakes Community Caregivers to the population they serve.
Audi Nashua
Interlakes Family Dental
Miracle Farms Landscaping
The Laconia Daily Sun
Northeast Communications
Comfort Keepers
Electrical Installations
McCarthy Lawn and Landscape
The Platinum Group at Re/Max Bayside
Ippolito's Furniture
Northway Bank
Taylor Community
The Moultonborough Lions Club
Break Away Rentals
Circle Dental
E.M. Heath Market
Moulton Farm
Overhead Door Options
Re/Max Bayside
Winsor Homes