Irene T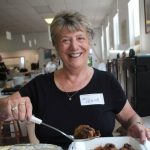 oni (Kochman) Gordon, daughter of Max and Ruth (Chotzen) Kochman, died on May 2, 2023 at the age of 85 after battling cancer with grace and dignity for several years. She was surrounded by her loved ones, all of whom will forever cherish her memory as a blessing.
The funeral will be held on Friday, May 5th at 12:00 noon at Temple B'nai Israel, 210 Court Street, Laconia and on Zoom. (Link to attend via Zoom).  A condolence meal will follow in the synagogue's social hall.  The family will be sitting Shiva on Saturday, May 6 from 7:00 – 9:00 pm and Sunday May 7 from 2:00-4:00 p.m. at Irene's home in Belmont. All are welcome to come and visit with the family to provide comfort and support, share memories, and remember Irene. 
Irene was born in Breslau, Germany on February 21,1938. Her family was able to escape the Holocaust in 1939 and fled to La Paz, Bolivia. In 1946, they emigrated to the United States and settled in Brooklyn and, later, Port Chester, New York.
Irene graduated Port Chester High School and went on to earn a degree from Tufts University's Boston School of Occupational Therapy. After obtaining a master's degree in Developmental Disabilities from UNH, she became one of New Hampshire's leading OTs. Irene practiced for 52 years, specializing in autism spectrum disorders and developmental disabilities.  She was a leader in the implementation of sensory integration techniques and could frequently be found happily sitting on the floor with children playing with playdough, exploring a ball pit, or swinging them on therapy equipment.   In addition to traveling nationwide to lecture and lead workshops, Irene received the NH "Occupational Therapist of the Year" award in recognition of her groundbreaking work in the pediatric field. Irene touched and enhanced the lives of countless children and their families, which she considered her greatest and proudest legacy.
Irene first came to the Lakes Region in 1967 after marrying Dr. Spencer Brody. In Laconia, they raised their three children, David, Lynn, and Jeffrey. In 1986, Irene remarried, finding her soulmate, Arthur Gordon. With Arthur, Irene gained a partner both in her OT practice and in life. Their marriage was marked by warmth, humor, mutual respect, and unconditional love. Together for 31 years, Irene and Art traveled, boated, volunteered at their local synagogue, attended the theater, and doted on their 10 grandchildren. Reflecting their love for the local Jewish community, they jointly founded the Jewish section of Laconia's Union Cemetery. 
Irene's life was defined by giving and service to her community. In addition to her work as an OT and as Director of the St. James Nursery School in Laconia, she served as president of the Nursery Guild of Lakes Region General Hospital, Hands Across the Table where she chaired the annual Soup-a-Thon, Lakes Region Youth Hockey Association, and Temple B'nai Israel, where she also chaired the annual New Hampshire Jewish Food Festival and served on the Bereavement Committee and Cemetery Board.  Irene's Judaism was very important to her, and she took seriously God's commandment that we engage in tikkun olam, meaning efforts to repair and improve the world.  At family holiday dinners, it was not uncommon for a dozen strangers to be seated around Irene's table. She was forever providing meals and support for friends and strangers alike
Irene is survived by her brother Thomas Kochman (Rhona) of Delray Beach, Florida; her children David Brody (Kimberly) of Newburyport, Massachusetts, Lynn Keltz (Ira) of Laconia, and Jeffrey Brody (Patricia) of Belmont, Massachusetts; her stepchildren David Gordon (Maria) of Pittsburgh, Pennsylvania, Jonathan Gordon (Ami) of Newton, Massachusetts, Ellen Gordon (Pamela) of Amherst, New Hampshire, and Kevin Gordon (Barbara) of Walnut Grove, North Carolina; and grandchildren Alleana, Renee, Jonathan, Archie, Benjamin B., Matthew, Sarah, Max, Zachary and Benjamin R-G.
In lieu of flowers, donations may be made in Irene's memory to Temple B'nai Israel, 210 Court Street, Laconia, NH 03246 or to Hands Across the Table, 31 Gilford Avenue, Laconia, NH 03246.